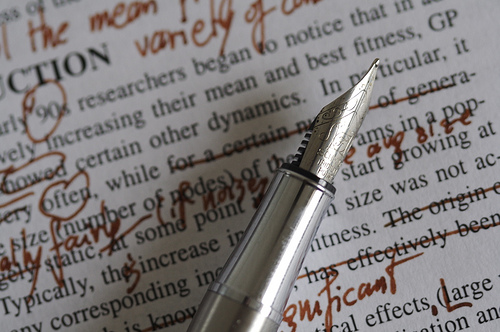 "It looks," (pause… pause… pause) "good."
Mental note: Not a good sign.
"Most people out there are smarter than I am, so I think they'll get it."
Translation:  "It was hard to follow."
He was right.
—–
David, my husband, was being kind. I'd worked for hours on an article for a newsletter and had finally asked him to review it. It was late. We were tired. But he was willing to take the time to read it – really read it – and give me feedback. And I wanted to hear what he had to say. To some folks, that wouldn't seem extraordinary. For us, it is.
In the early years of marriage, I was convinced that I could do it (whatever "it" was) myself. I took pride in my ability and independence. Great for career. Not so much for marriage. In our own separate spheres, we were each able to make life work. Successful (whatever that is) careers, friendships, and involvement in meaningful ministries donned our family resume. They say a potential employer scans most resumes in less than thirty seconds before forming an opinion. If you followed the thirty-second principle and didn't dig too deeply, we were in pretty good shape. We had moved through some difficult seasons, but those turbulent times were behind us. Life had become peaceful. Life had become manageable.
Although David and I hadn't yet learned how to rely on one another, healing and growth were happening. I started journaling as a way to process and document my own journey. Writing forced me to synthesize longings, fears, discoveries, and a myriad of rambling thoughts into something coherent. It helped me to create a sense of order out of what felt like chaos. Writing gave me a voice. It put words to (my) truth.
As a by-product of working through our own story, I developed a heart for others who were struggling and felt alone. Shame, fear of rejection, and the legitimate need for protection and confidentiality can create a thick hedge between the one in pain and the outside world. Often, folks who are the most vulnerable are also the most isolated and lonely.
One afternoon, as words of pain and despair tumbled out of a friend, I ached for her. I wanted to say, "I know. To some degree, I understand. You are not alone." But my role that day was simply to listen. To be present. To be safe.
In the following weeks, our conversation came to mind several times. I wanted to find a doorway through the hedge that had grown around her. Although the specifics of our situations were different, there were common themes. Her words had echoed many of my own. The same words that I had arranged, rearranged, and finally put down on paper. I pulled up one of my old journal entries and sent it to her. I had found a door.
That same scenario replayed itself on other occasions with different friends. Slowly, it dawned on me. We are all sustained by the same Hope – a Hope that promises not to disappoint. But along the way, pain, unexpected trials, bad theology, and sheer exhaustion can cause us to lose perspective. Sometimes seeing the life of another, a story that bears resemblance to our own yet is further along the road to redemption, offers a glimmer of what could be. It was at that point of discovery that I began to understand the power of story. Consequently, I committed to write more regularly, more publicly, and as honestly as possible.
Therein entered my need for an editor.
David wouldn't have been the obvious choice. He spends his days reading documents and computer screens. By the time he has a few minutes for leisure or relaxation, reading for pleasure isn't at the top of the list – if it's on the list at all. But I was putting my thoughts out on the world-wide-web for all to see, and I wanted to be responsible with such a privilege. I wanted to be clear and truthful in what I wrote. I needed an editor, and my husband was accessible and willing to play the role.
The first piece I wrote for publication, I spent hours writing and rewriting. Finally, it was ready. David read carefully and scratched notes in margins. When we sat down to discuss, I had anticipated that he'd report a few typos and then congratulate me on a job well done. He did encourage me with his comments and surface a few minor errors, but he suggested a more substantial change as well. On the outside, I smiled and said I'd take his feedback into consideration. On the inside, the once-aspiring attorney in me was constructing an impenetrable case. Really, what did he know about writing, anyway? I was the one who had been writing for years. I had thrived in my rigorous English composition class in college.  My thoughts were well-developed. My syntax correct. Yadayada. You get the picture.
But when I calmed my indignant insides down enough to revisit his comments, I was shocked at what I found.
He was right.
David's feedback didn't come from a posture of criticism or competition. He wasn't trying to control my message or diminish my voice. Quite the opposite. My husband had vision for what my writing could be. More vision than I did. He had suggested that I dare to be more transparent. He wanted me to give the gift of truth, which is often as ugly as it is beautiful, for the purpose of loving others well. Even others I would never meet.
There are times when my writing is too wordy, too full of imagery, too cloaked in symbolism. My words get in the way of what I'm trying to say. David sees with more objective eyes. In being willing to speak truth, he helps me become more of who I was created to be.
There have been occasions when I have disagreed with his feedback. I wrote a short piece of fiction that was outside of my usual comfort zone. David wasn't crazy about it. It was too much of a stretch, too different. I listened, considered his perspective, and decided to publish it anyway.  In order for us to have a healthy working relationship, I have to respect, consider, and evaluate what he has to say. But just as my perspective is limited, so is his. There have been times when  I've chosen to move forward despite his feedback. At the end of the day, I'm the one signing my name. And he's been graciously supportive. Although David may not have been the obvious editorial choice, it turns out that  he is precisely what I need.
As of this week, we've been married for nineteen years. We're beginning to get a taste of what marriage was designed to be. At least I think we're closer. I no longer take pride in doing it (whatever "it" happens to be) on my own. Quite the opposite. I've found great comfort and delight in relying on my husband. After nineteen years, we're far more willing to speak truth into each other's lives. Truth that is fueled by wanting what is best for the other, rather than truth spoken to support our individual agendas. Our separate spheres have merged into one, still giving plenty of room  for individual growth. Actually, more room.
I'm deeply and infinitely grateful for my editor. He encourages and inspires, but that's not the best thing about him. The best thing about my editor is his willingness and ability to draw out the best in me.
Happy Anniversary, David.
And thank you.
I'm a very different person as the direct result of you being in my life.
—–
---
If you liked this post, you might like these: